Bio: Nate Olson, a former ALT and current researcher at Sophia University, is promoting team-taught CLIL (content and language integrated learning) for his Ph.D. project. He has created a team-taught CLIL training course video series which will be featured on ALTTO Courses.
He invites you to participate in a pilot study where he will be a consultant on your team-taught CLIL projects, helping you and your co-teacher to implement CLIL into your team-taught lessons.
Please see his TTCLIL project video series for more information about CLIL and examples of team-taught CLIL in action.
Are you interested in professional development?

Do you have some autonomy to introduce your own ideas into lesson planning?

Are you able and willing to collaborate with your JTE?
If so, then team-taught CLIL might be for you!
Team-taught CLIL is a way for you to develop yourself as a fully-fledged educator and a way for you to collaborate more fully with your teaching partner.
Although there is no "one-size-fits-all" way of implementing CLIL into your team-taught lessons, the following methods and models will help you maximize collaboration with your teaching partner.
1) Negotiate roles and responsibilities with your teaching partner in advance.
Roles may include planner, leader, feedback provider, and classroom manager.
The planner needs to know the content topic well enough to teach it. This may be best coupled with the leader role as it is unlikely that both teachers will know the content to the same extent.
As the ALT, you may be able to assume these roles you may already have a background in a content subject from university (e.g. science, history, art, literature, etc.), or be interested in a content subject as a hobby. You may also have comparatively more free time for planning, and be more capable of finding "authentic" resources for materials intended for native speakers.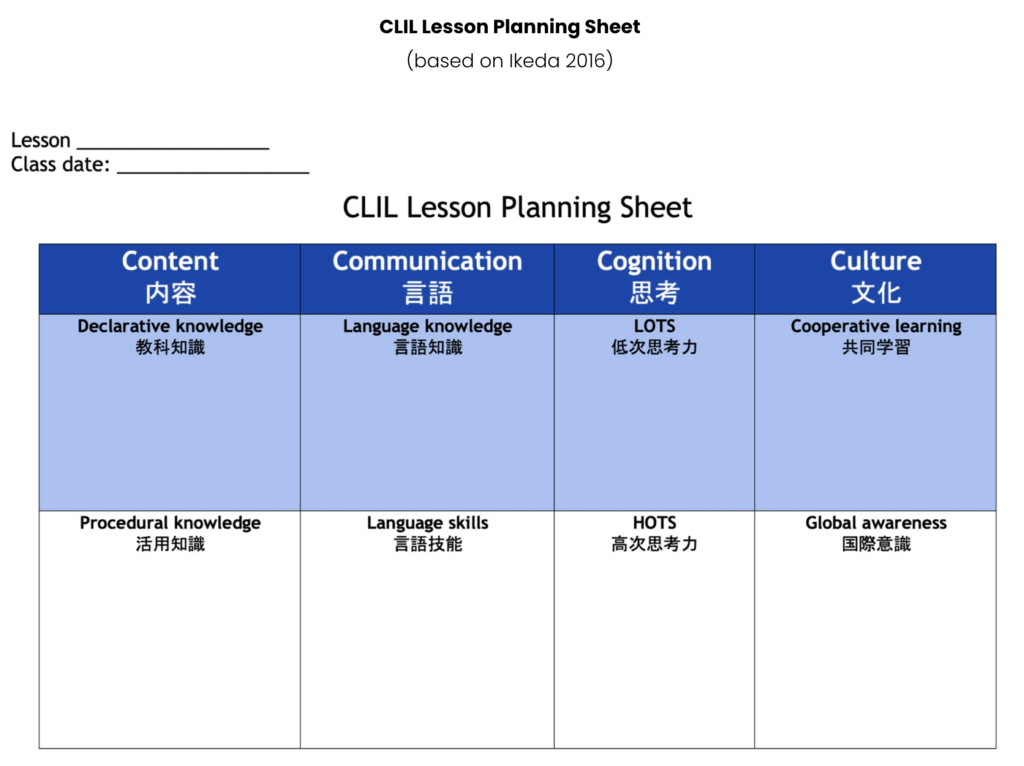 The feedback provider gives feedback on the lesson plans and classroom materials, and she or he will have the final decision as to what is feasible for the students. The feedback provider may also be in charge of assessment and creating an examination for the lessons.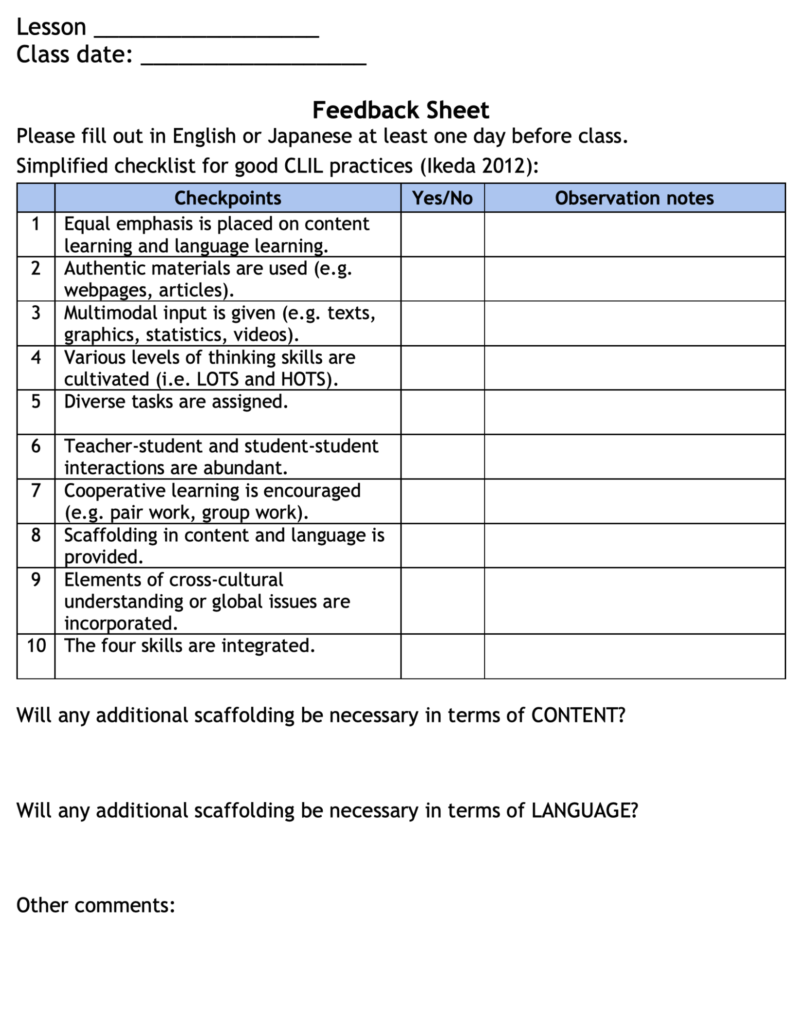 Finally, the classroom manager helps facilitate the lessons by making sure students are engaged and following instructions. The JTE/HRT is recommended for these roles because she or he is culturally and linguistically closer to students and has a better understanding of students' needs in terms of content and language.
2) Follow the teacher development model.
The collaborative CLIL teacher development model, outlined in Sasajima (2013), allows teachers to "collaboratively develop their own CLIL teaching knowledge and skills." There are five stages: planning, simulating, executing, reflecting, and revising.
The planning stage includes the creation of the lesson plan and materials, as well as a meeting to discuss the details of the lesson such as task procedures, teacher roles, teacher talk, and how to best scaffold for language and content. For each lesson, the planner creates a lesson plan and materials, and the feedback provider provides feedback: she or he will make sure that the lesson is properly scaffolded and fits within CLIL's 4Cs framework.
For the simulating stage, you may find it helpful to act out the teacher talk or activities such as skits before the lesson. Teacher talk should include opportunities for student participation whenever possible.
During the executing stage, there may be a "feeling-out process" where you learn how to navigate and negotiate your roles with your co-teacher. Compromises may be necessary depending on the task at hand, and it will be important to be flexible and learn to play to each other's strengths.
Reflecting and revising are not necessarily discrete stages, nor do final reflections and revisions happen immediately after each lesson. However, it is recommended that you make a routine of reflecting together after each lesson. Especially at the beginning, this will be a beneficial way for you to understand each other and improve on your collaborative efforts.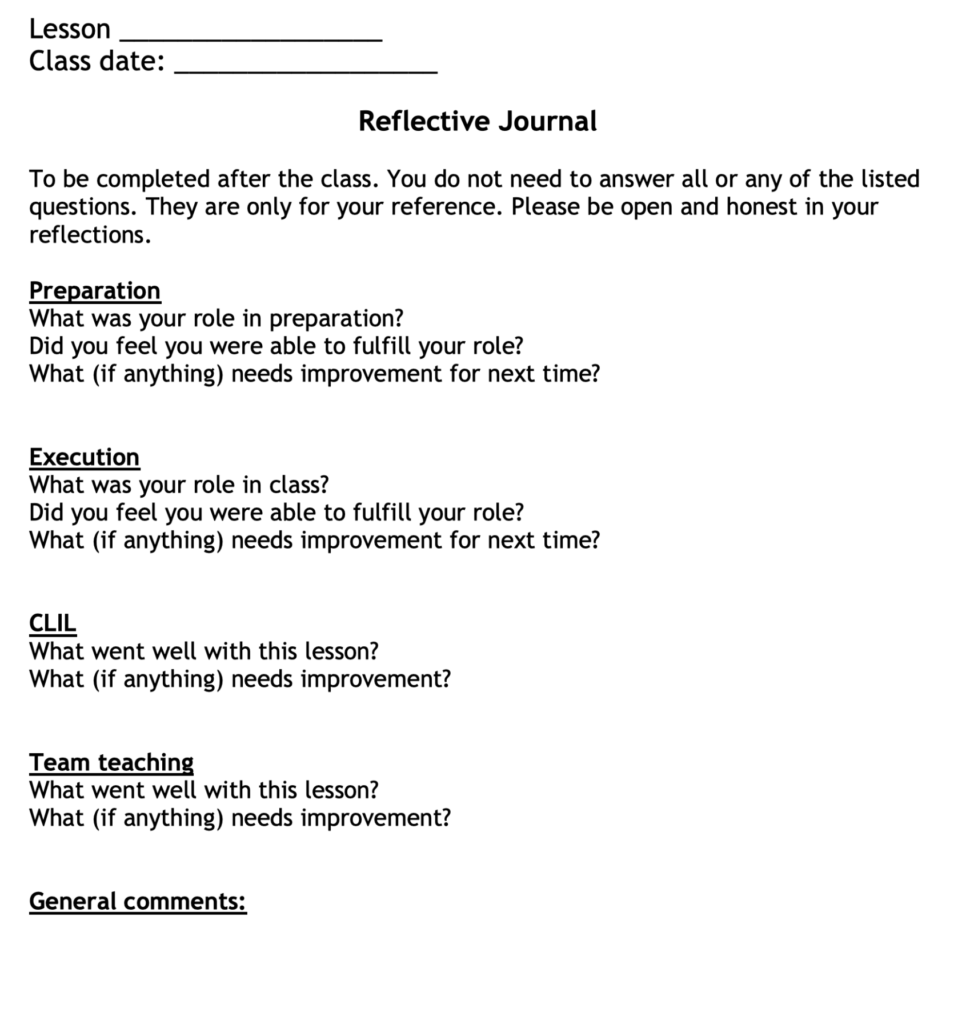 These tools will help you streamline the collaborative process. The tools include a Trello board to help you organize your own TTCLIL project, CLIL Lesson Planning Sheet, Lesson Plan and Teacher Talk templates, a Feedback Sheet, and a Reflective Journal template.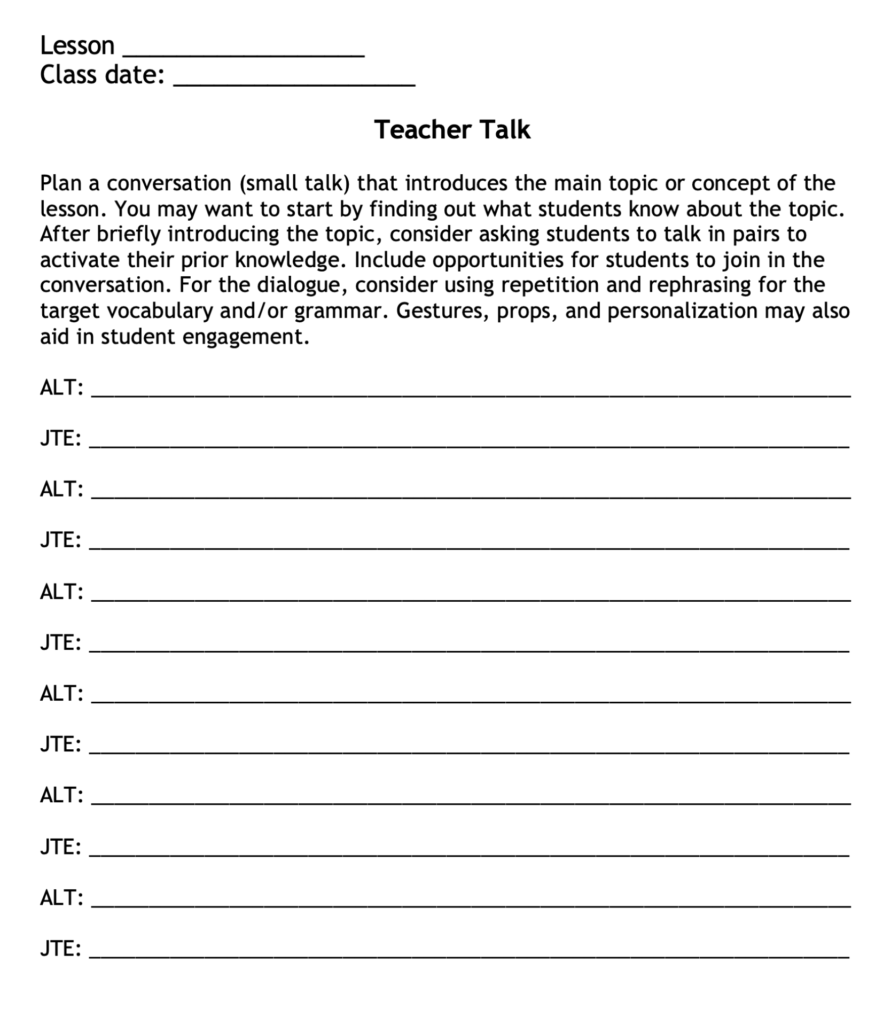 Please see the TTCLIL project video series for more information and examples of how these tools were used to implement team-taught CLIL lessons.
If you or another English instructor at your school are interested in team-taught CLIL lessons, please consider participating in Nate's pilot study. He will be available as a consultant on the project to help you through the process in any way he can.
Even if you are only considering it, please shoot him an email at nate@ttclil.com.
– A note from ALT Training Online's David Hayter
If you have something 'ALT' to write about that hasn't been covered in these blogs, email David at

alttoblog@gmail.com

so we can work together and spread your story.
Don't have any ideas? We have a list of topics to write about that need a writer. Email in your interest to write and we can set you up.
Never miss another blog again!

Click here to sign-up

for our newsletter, "The Monthly Trainer," to stay up to date with everything ALTTO has to offer.